Although Valentine's Day has no connection to Mexico's history, there's always a reason to celebrate love, especially in the Mexican culture! Our culture is known for being one of care, nurture, and affection for our loved ones. 
Valentine's Day is celebrated in many different countries! Because all relationships are highly valued in our culture, Mexico has turned this holiday into a Mexican tradition. We have learned to celebrate it our own way, give it our personal touch and add to our rich Mexican culture!
In Mexico, Valentine's Day is called "El Dia del Amor y la Amistad". For those of you who can speak spanish, there's a little hint at how Mexico celebrates this holiday. For those of you who don't speak spanish, hang on because we're going tell you all about it and cover how Mexico celebrates this holiday from how they celebrate to what they eat!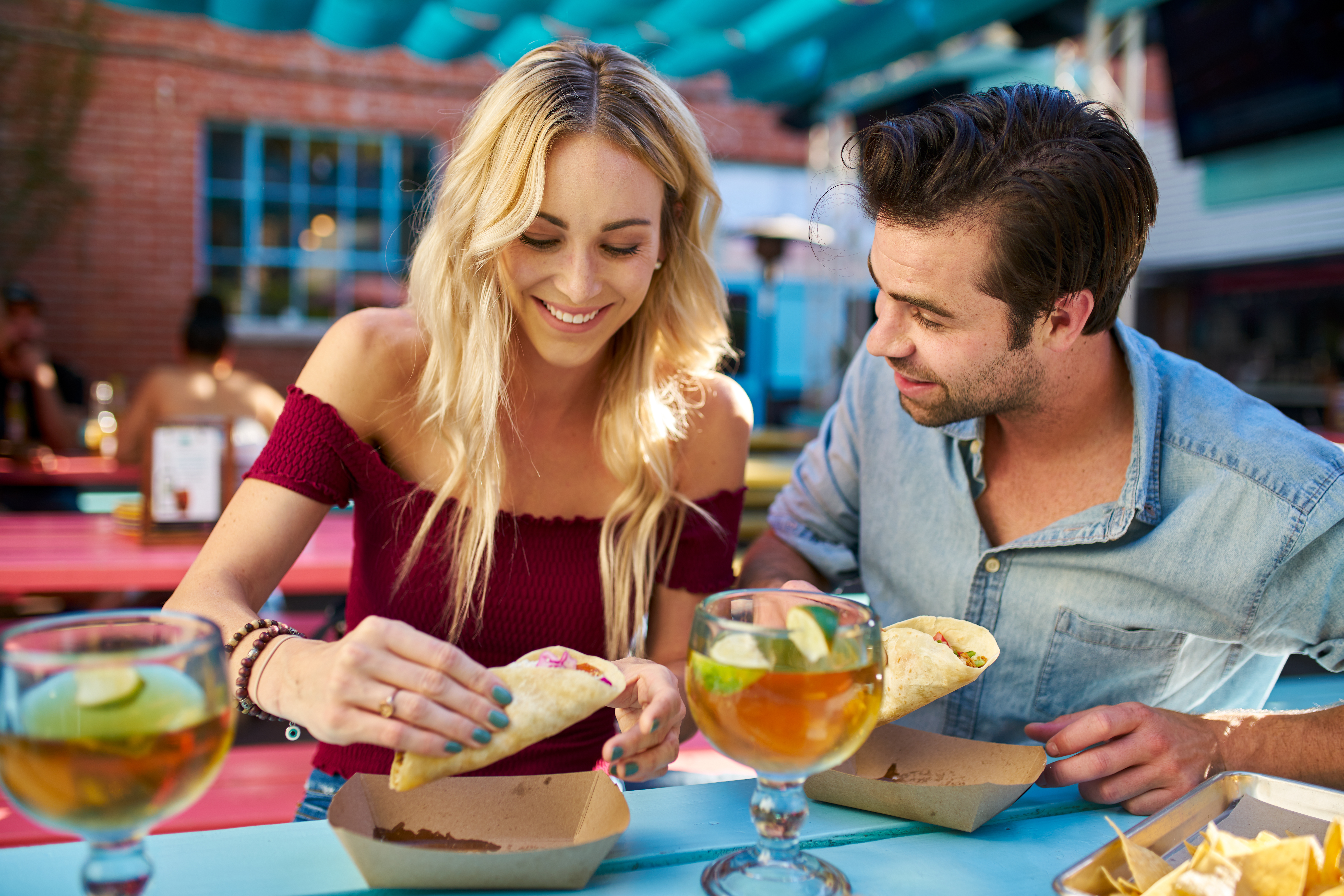 Love Is in the Air
One of the obvious reasons to celebrate Valentine's Day in Mexico is to show your love and appreciation towards your significant other. This holiday most definitely fits into the loving nature and the celebration-loving culture us Mexicans have!
Did you know that some people think Valentine's Day shouldn't be celebrated? It's true! Some people believe that we should show our love every day and not dedicate our love only once a year. While there is some truth – that we can and should cherish our special someone every day – our daily routine can get a little busy. 
El Dia del Amor y la Amistad is a great reminder to express your love even further than the small gestures you're doing every day. It's a day to celebrate your love, your appreciation, and your commitment even more to the person you're madly in love with!
What To Give a Loved One
To celebrate like you're in Mexico, here are some traditional gift ideas for your special someone:
Heart-shaped balloons

Chocolates

Flowers

Poems
Get the full Mexican Valentine's Day experience by choosing Blue Iguana!  We even have some yummy specials exclusive for all who wish to dine with us. Check them out and get ready for a fun yet romantic evening: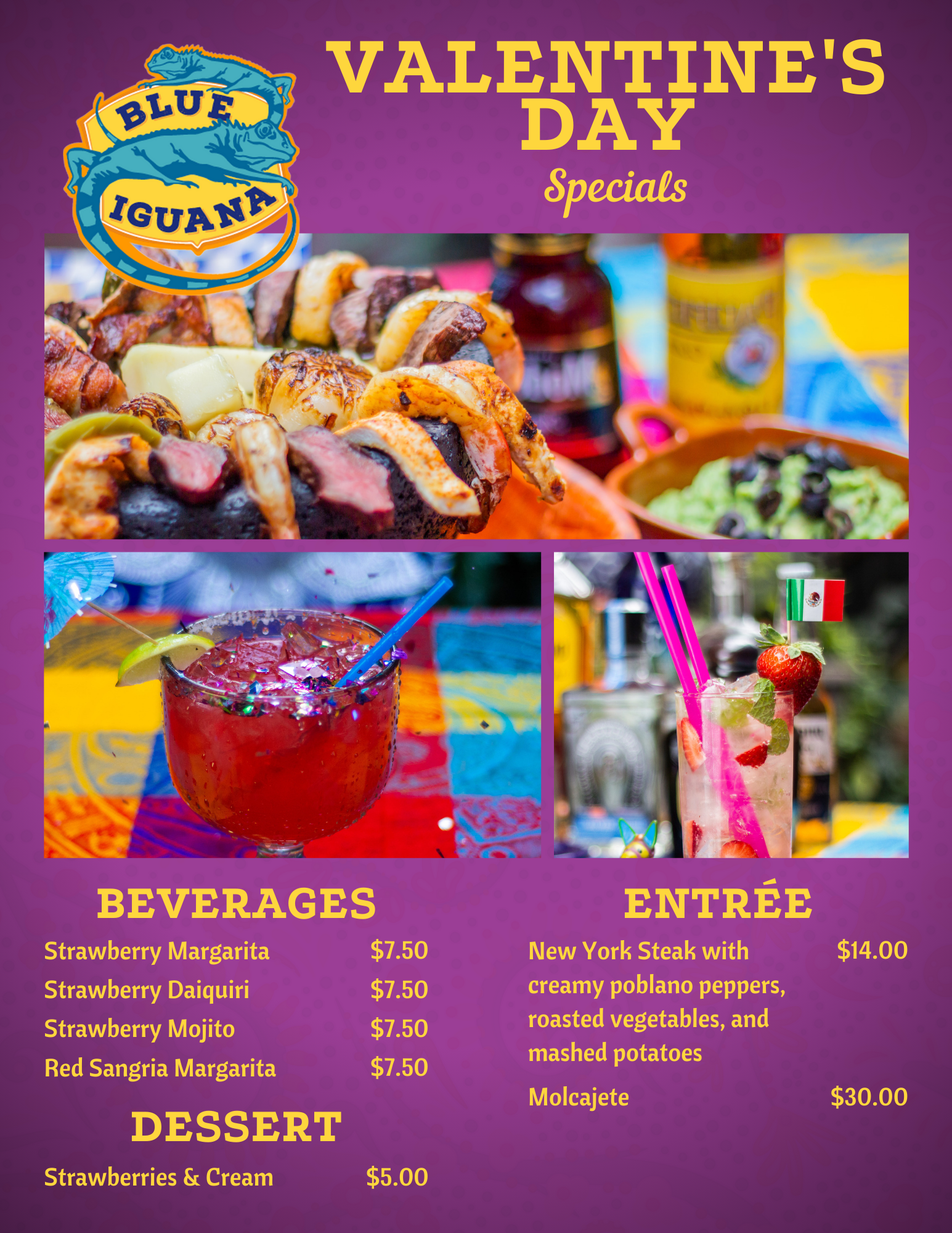 It's Not All About Romance
The most interesting and different aspect of El Dia del Amor y la Amistad is that it's not just to celebrate a romantic love. It's a day to also celebrate the appreciation for all your loved ones and those you care about such as family and friends. If you don't have that special someone you most definitely can still celebrate! Let's find out how Mexico celebrates friendship and family on Valentine's Day.
How To Celebrate With Friends and Family
In Mexico, friends and family show each other they care through:
Celebrate With Us Like You're In Mexico!
We're celebrating El Dia del Amor y la Amistad from February 13th-16th this year. We've got the food covered. ¡Ven! Come celebrate with us and have an authentic Mexican experience at Blue Iguana with your significant other, your family, or your friends. Your night could include some amazing Mexican food, fun mariachi music, and yummy dessert! 
And don't forget to enjoy our Valentine's Day specials! Enjoy a New York Steak with creamy poblano peppers, roasted vegetables, and mashed potatoes for only $14. And for $30, enjoy our chef's signature dish, Mocajete along with some strawberry-themed alcoholic beverages for only $7.50 each. 
To make your Valentine's Day reservation and/or find out about our specials, call 801-533-8900 today! We look forward to celebrating and sharing our love and culture with you.
https://blueiguanarestaurant.net/wp-content/uploads/2018/11/IMG_4140.png
1281
1922
blueiguana_admin
https://blueiguanarestaurant.net/wp-content/uploads/2014/11/logo.png
blueiguana_admin
2020-01-30 19:49:57
2020-01-30 19:51:55
How To Celebrate Valentine's Day Like You're in Mexico
Do you ever wish you could escape the cold, snowy holiday season here in Utah and venture off to somewhere warmer like Mexico? The Christmas season in Mexico is one of the most festive and beautiful things that anyone could ever experience. Celebrations start in early December and continue into early January with a related holiday capping off the season in February.
In the United States, commercialism launches the season on November 1st and there may be a party or two to attend during the season, but the real celebrations typically only take place on December 24th and 25th. In contrast, Mexico has purposeful events marking the different phases of the season—making it last for over a month! Keep reading to learn more about these celebrations.
Feast of the Virgin of Guadalupe—December 3-12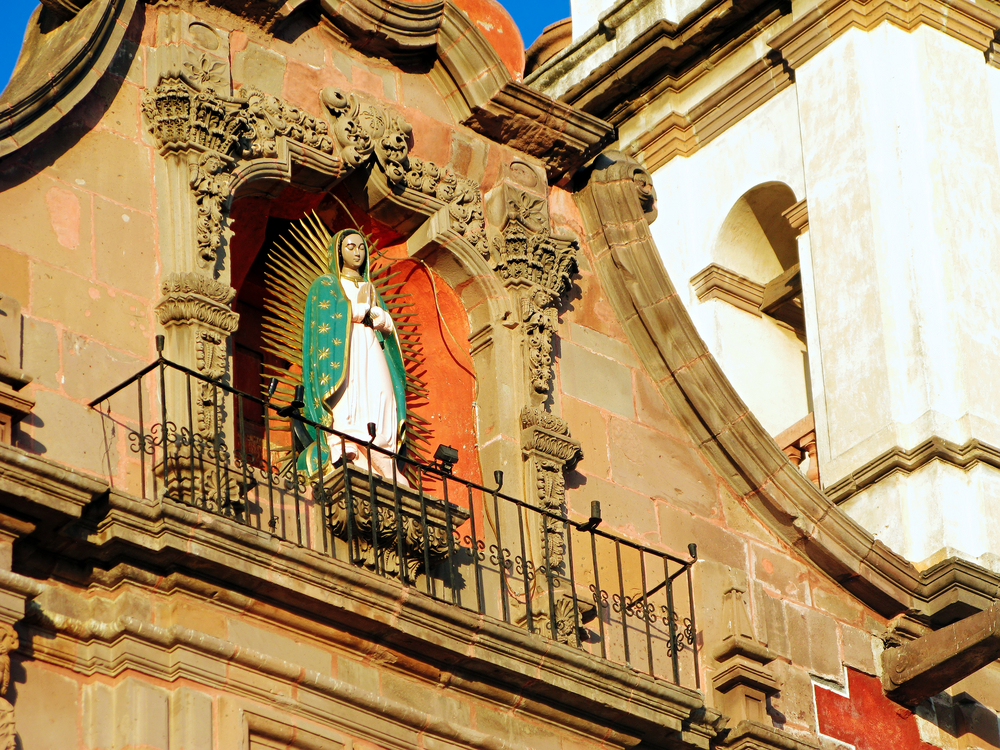 For nine days leading up to December 12, most of Mexico joins together for a novena. This is a nine-day religious celebration of the Virgin Mary's miraculous appearance to Juan Diego in 1531. The novena is spent honoring her through prayer. The final day of the novena ends with feasting on tamales and hot chocolate.
Las Posadas—December 16-24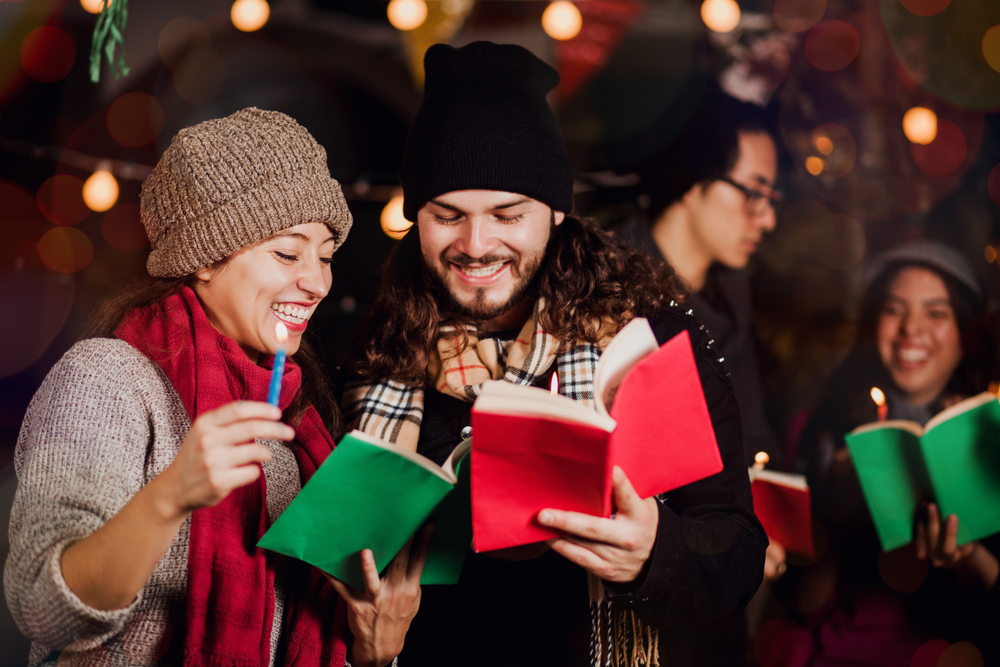 Meaning "inns" and "shelters" in English, Las Posadas is one of the more important parts of the traditional Mexican Christmas celebrations. It resembles the Bible story of Mary and Joseph who went from inn to inn searching for a safe place where Mary could deliver the baby Jesus. Today, this search for refuge is celebrated all over Mexico with candle-lit processions and carols. One traditional song even acts out the Nativity scene where Mary and Joseph beg for shelter and aren't let in until the one innkeeper takes pity on them. Posadas are typically held at a community member's house. Partygoers arrive singing a song about seeking shelter and the people inside respond in kind, singing a song of rejection. This goes on and on until the host of the house lets everyone in.
Noche Buena & Misa de Gallo—December 24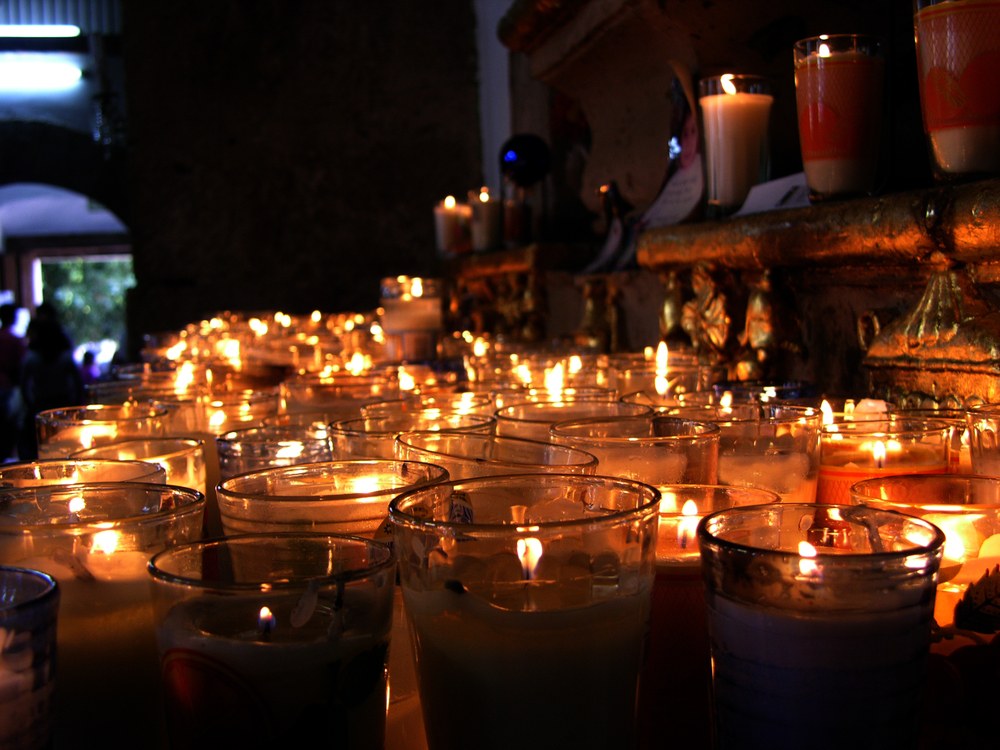 Christmas Eve, or Noche Buena, is one of the biggest celebration days in Mexico. Families spend it together and often attend the final posada. The evening meal is the biggest feast of the season with delicious traditional dishes like pozole, roast turkey, tamales, and fried pastries. Many people choose to end the day by attending a Misa de Gallo—Mass of the Rooster—which is a midnight religious service honoring the legend that says that the only time a rooster has crowed at midnight was when Jesus Christ was born.
Christmas Day—December 25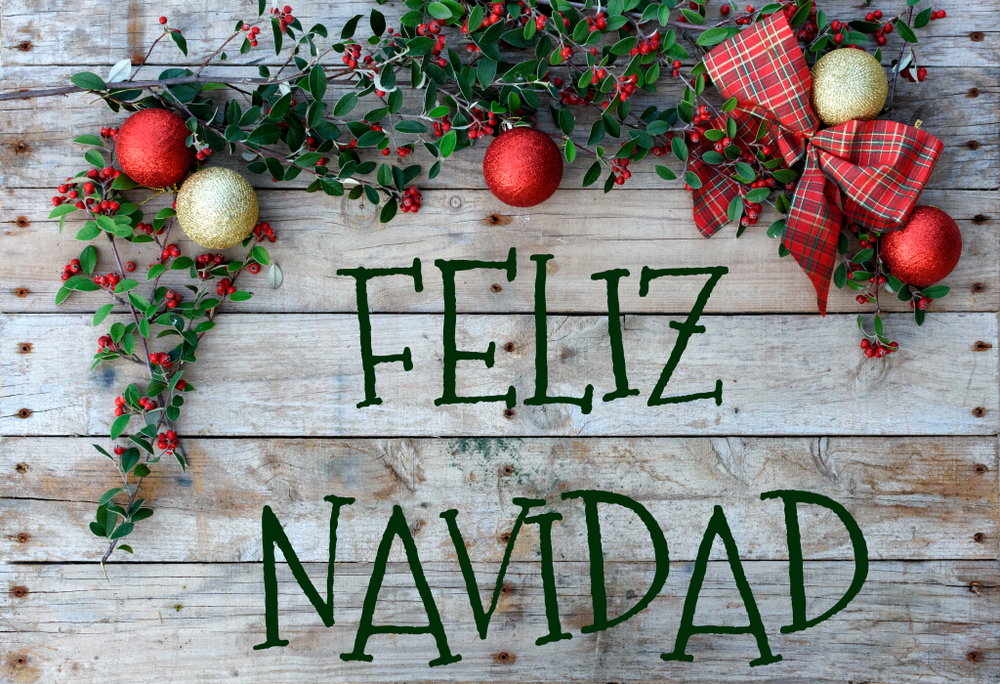 Because Noche Buena is a long day of celebration, many people spend Christmas Day as a day of rest. They enjoy their gifts, watch movies, and spend quality down time with their families. Because receiving gifts from Santa Claus is a more modern custom, many children will wait until Three Kings' Day to open gifts.
Los Santos Inocentes—December 28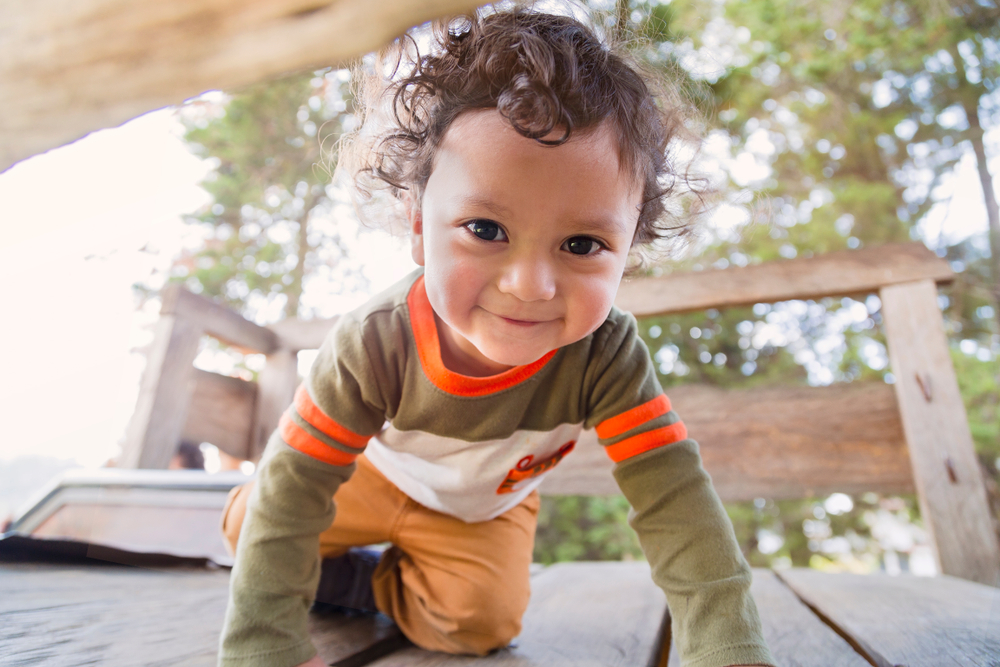 The Day of the Innocent Saints is a day where people remember the babies killed by King Herod as he tried to hunt down the baby Jesus. Despite solemn origins, it is the celebratory equivalent of April Fools Day in the US. The day is about festivity and humor with pranksters pulling practical jokes, or inocentadas.
Three Kings' Day—January 6
This is the day that every child looks forward to. It honors the arrival of the Magi or los Reyes Magos who brought gifts to the baby Jesus. According to tradition, their names are Melchor, Baltasar, and Gaspar. It is also the day that children traditionally receive gifts from the Magi—some children to receive gifts from Santa Claus on Christmas Day, but that is considered to be an imported custom.
Candlemas—February 2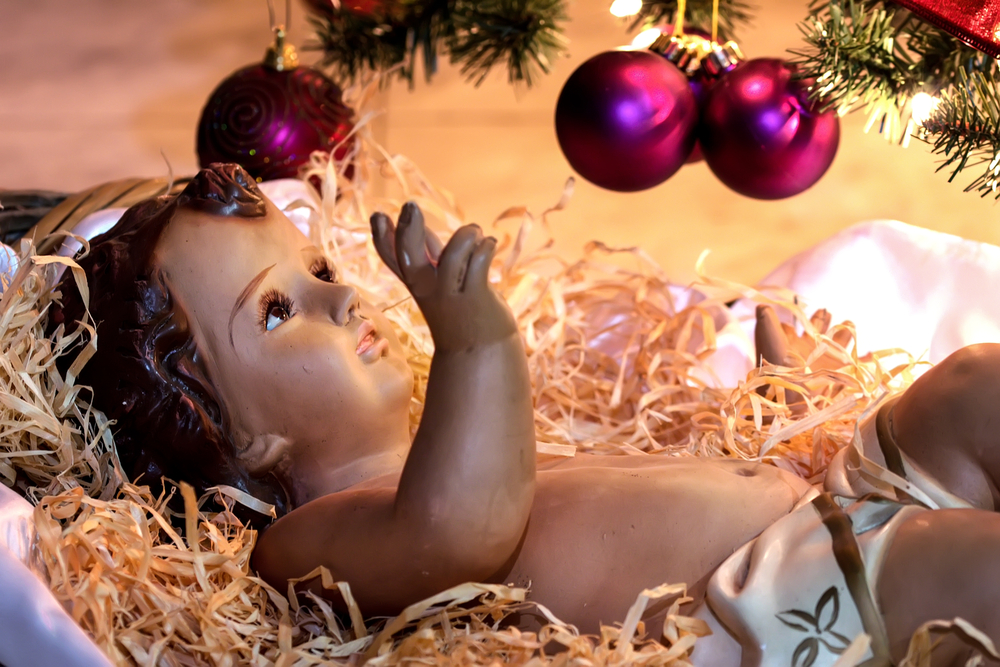 Candlemas, or Día de la Candelaria, is a special day symbolizing 40 days after the birth of Jesus. According to ancient Jewish custom, women would take their children to the temple 40 days after giving birth, and so it is supposed that Mary would have done the same. In Mexico, this day is honored by dressing up figurines of the Christ Child, Niño Dios, and taking them to the church to be blessed. Families will often get together and celebrate together with good food. In some areas of Mexico, there are parades and even bull fights.
Celebrate Like You're in Mexico!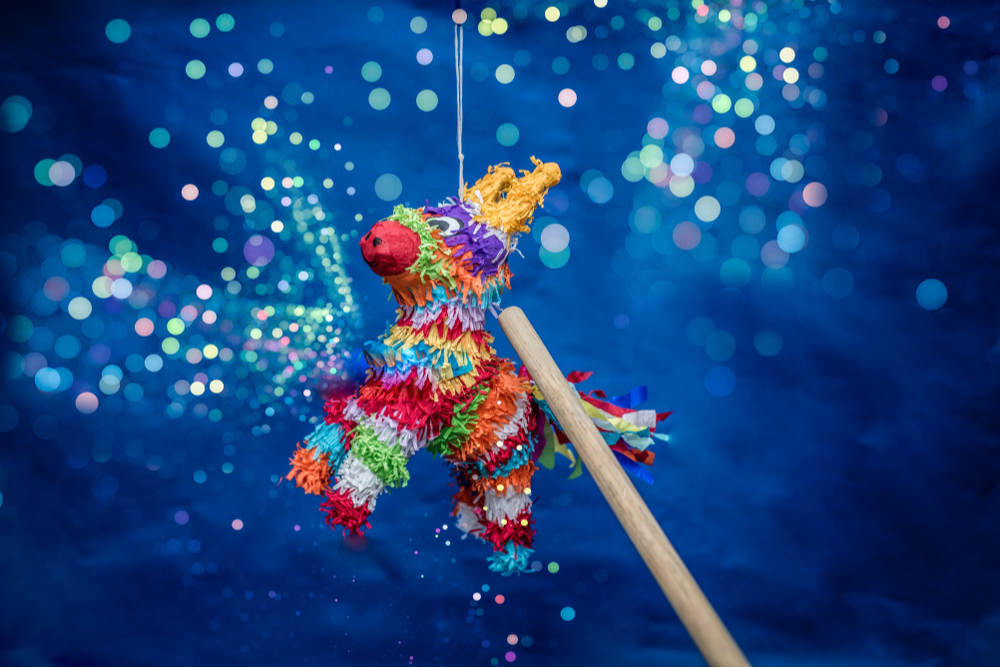 You might not be able to catch the next flight to Mexico, but you can make the drive on over to Blue Iguana in downtown Salt Lake City. We'll be celebrating the holiday season the entire month of December. Come enjoy authentic holiday treats like tamales, pozole (weekends only), huevos divorciados, and sopapillas served with Mexican hot chocolate. To make a reservation, call us at 801-533-8900. ¡Feliz Navidad!
Interested in Learning About Other Mexican Holdiays?
Make sure to check out our blog on the Day of the Dead!
https://blueiguanarestaurant.net/wp-content/uploads/2019/11/shutterstock_1569703903.jpg
667
1000
blueiguana_admin
https://blueiguanarestaurant.net/wp-content/uploads/2014/11/logo.png
blueiguana_admin
2019-11-28 00:49:59
2019-11-28 00:49:59
What is Christmas Like in Mexico?
***Come celebrate on Monday, September 16, 2019! In Celebration of Mexican Independence Day, are having several $10 entree and $5 beverage specials. These will only be available on the 16th. Please see the below menu for full details.***
Stepping into Blue Iguana, you can feel the love we have for the Mexican culture. Most of our cooks and waiters are from the beloved country of Mexico, and you can see the pride we have in our homeland in every part of the restaurant. You can hear it in the music and taste it in our food. Yes, we love Mexico! We love everything from the authentic flavors we cook up every day to the rich history that gave birth to the country it is today. Continue reading to discover the history behind how Mexico came to be.
"¡Viva México!" Visit any town square in Mexico on September 16th, and you will hear people shouting this glorious phrase. It means, "Long live Mexico!" and is known as El Grito de la Independencia or The Cry of Independence. Behind these words are a lot of emotions—passion, patriotism, and pride.
You see, Mexicans are a proud people with a very rich heritage. Much like their northern counterparts in los Estados Unidos (United States), Mexican history includes a bittersweet story of a brutal fight for independence and a trail of leaders who helped make it happen. Before we tell this story, you must know one thing: the story of Mexican independence has nothing to do with piñatas, beer, or even Cinco de Mayo. It's about a people who fought for their right to be free from the Spanish army. It's a story that deserves our respect and gratitude.
The Cry of Independence
September 16th is the day we celebrate Mexican Independence Day. However, that is not the day that the country's independence was officially declared. In fact, it marks the day everything started when Miguel Hidalgo, a Catholic priest, decided to take action. He was frustrated with the authorities because they wouldn't let him teach the poor people in the city of Dolores how to grow certain crops, and he wanted the people to have more opportunity. On September 16, 1810, he gave a speech called "The Cry of Dolores" that ignited a revolution against the European-born Spaniards who governed over them.
The Death of the Father of Mexico
The Mexican people heard Hidalgo's cry and eagerly gathered to support him. Together, they formed a rudimentary army of poor farmers and civilians, including women and children, that killed many of the elite Spaniard class. In January of 1811, they found themselves at the Battle of Calderón Bridge where they met an army of 6,000 well-trained troops. There, most of Hidalgo's army either fled or were killed. Hidalgo himself fled but was eventually captured and beheaded on July 30, 1811. The government used his head as an example of what happens to those who revolt by displaying it in the city of Guanajuato where he and his army were formally charged with the offense of causing a massacre.
¡Viva México!

Hidalgo's fight was short, but it was the spark that set the fire in the hearts of the people of Mexico. It is his cry for independence that we celebrate every September 16th as that is what started the movement towards a free Mexico. Other leaders followed Hidalgo and continued to hold up the mantle of revolution until independence could be officially declared on September 28, 1821. These leaders are honored every year on September 15th at 11pm as the president of Mexico stands before the country's citizens as he gives a modern patriotic cry of independence:
Spanish Version
¡Mexicanos!
¡Vivan los héroes que nos dieron patria!
¡Viva Hidalgo!
¡Viva Morelos!
¡Viva Josefa Ortiz de Domínguez!
¡Viva Allende!
¡Viva Aldama y Matamoros!
¡Viva la Independencia Nacional!
¡Viva México! ¡Viva México! ¡Viva México!
English Version
Mexicans!
Long live the heroes who gave us our homeland!
Long live Hidalgo!
Long live Morelos!
Long live Josefa Ortiz de Domínguez!
Long live Allende!
Long live Aldama and Matamoros!
Long live the nation's independence!
Long Live Mexico! Long Live Mexico! Long Live Mexico!
How to Celebrate Mexican Independence Day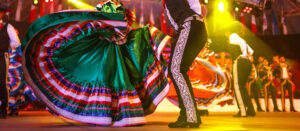 In Mexico, we traditionally celebrate this day of freedom in a way that is similar to how those in the United States celebrate the 4th of July. There are flags displayed everywhere, parades, fireworks, street fairs, family gatherings, and—of course—lots of food!
Maybe one day you'll have the opportunity to visit our beloved home country of Mexico and celebrate this amazing holiday there. Meanwhile, we'd love to invite you to come celebrate with us at Blue Iguana. Our authentic Mexican restaurant is a little piece of Mexico. Some consider it to be a hidden gem here in downtown Salt Lake City, but we like to call it a home away from home. Here, you can eat delicious mole made by our head chef just like his mother used to make back in Mexico, drink the best margarita you can get in the SLC area, and dine out on our Instagram-worthy patio. We can't wait to see you!
https://blueiguanarestaurant.net/wp-content/uploads/2019/09/Why-Do-We-Celebrate-Mexican-Independence-Day_.png
349
770
blueiguana_admin
https://blueiguanarestaurant.net/wp-content/uploads/2014/11/logo.png
blueiguana_admin
2019-09-11 16:35:05
2019-09-13 20:55:30
Why Do We Celebrate Mexican Independence Day?