October 22, 2018
The Beautiful Traditions of Mexico's Day of the Dead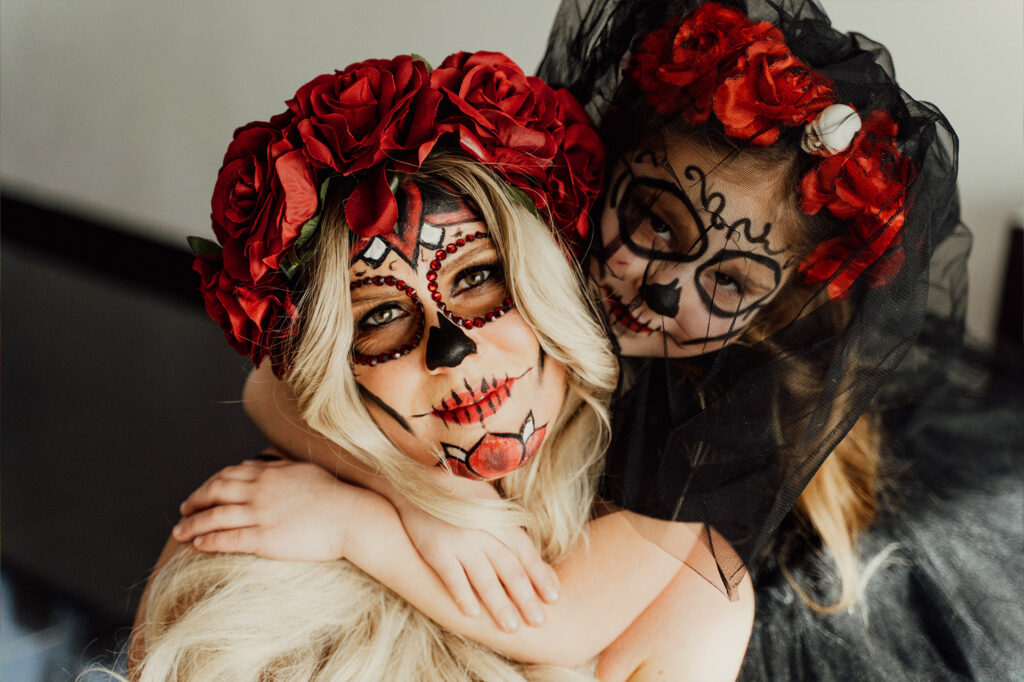 Día de los Muertos. The Day of the Dead. It is one of the most beautiful Mexican holidays and is celebrated October 31st to November 2nd. From an outsider's point of view it might look like Halloween but don't confuse the two! It's a special holiday and some might even call it sacred. If you've watched Disney Pixar's Coco™ then you know that the holiday has one central theme: family—it's important to remember your loved ones who have passed on and the heritage you have because of them. Don't grieve, celebrate!
Although some may argue about whether or not the holiday was accurately depicted in Coco ™, the movie did incorporate many of the unique traditions of Día de los Muertos. At Blue Iguana, we love and celebrate this very special day. Here, we will expand on some of those traditions as well as some not found in the movie and that you may not have heard of until now.
1. Altars for the Deceased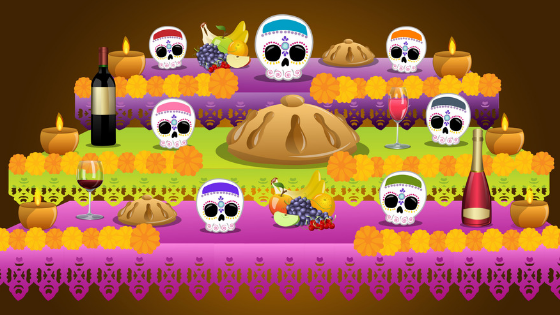 It is true that a good portion of the people of Mexico are religious (in 2014, 81% of the population identified as Catholic), but don't mistake this tradition as worshipping the dead. However, faith does play a part in some of the symbolism involved. Families create these altars to put ofrendas (offerings) to help them honor the memory of their ancestors and to guide their souls on their journey back to the world of the living. These are just some of the ofrendas typically found on an altar.
Papel Picado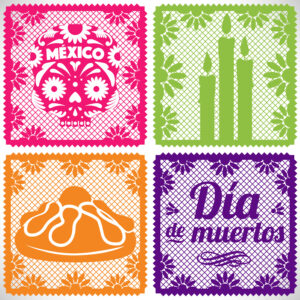 Papel picado is basically colorful tissue paper that has shapes or designs cut out of it. You've probably seen these displayed in many Mexican restaurants. These aren't exclusive to Día de los Muertos but are often placed on the altars to represent how fragile life is.
Family Pictures
When we look at pictures of those who have moved on from this life it brings back memories of them. We'll see their smiles and remember their laughter—maybe a joke they once told or something funny they did during their lifetime.
Mexican Marigolds
In Mexico, you'll see gravesites and altars covered with majestic marigold petals. They're meant to help guide loved ones back to their place of rest.
A Candle for Each Relative
A candle is lit for every family member who is being represented on the altar to help guide them back home.
Salt & Water
These items are meant to quench the thirst of the deceased's soul after their long journey.
Copal Incense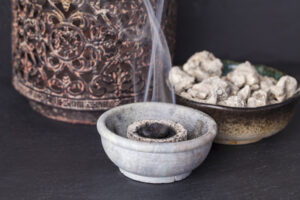 Made from tree resin, copal incense is used to purify the area around the altar. It is thought that the smoke from the incense helps people communicate with their deceased family members.
Personal Possessions
Personal possessions of the dead are often placed on the altar as well. These are items, like clothing or musical instruments, that an individual was fond of during their lifetime. If the person was a child when they passed, small toys are put on the altar.
Food
What holiday would be complete without food? Día de los Muertos certainly wouldn't be! Traditional food items as well as the family member's favorite meals are placed on the altar.
And speaking of food…
2. Food Offerings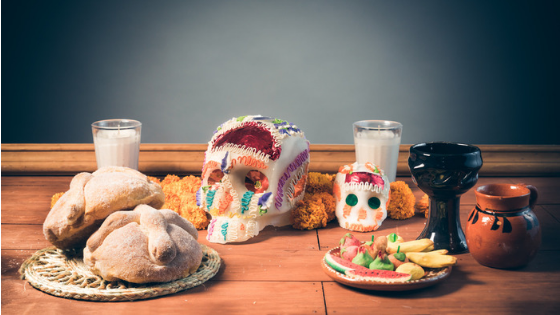 Preparing food for the altar can be a big event. Some families see it as a time to come together in the kitchen and bond over good conversation and cooking. Sometimes, the older generations will use this as an opportunity to show the younger family members how to prepare the meals. These are some foods that are commonly put on altars and later eaten by the living members of the family (souls can only smell!).
Pan de Muerto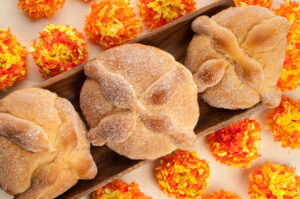 Bread of the Dead. This is a sweet bread that has bones and skulls featured on it. Sometimes it'll be made with a circular design, symbolizing the circle of life.
Sugar Skulls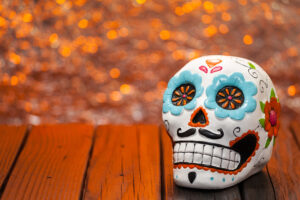 Probably one of the most iconic Day of the Dead traditions, sugar skulls can be made by pressing a granulated white sugar mixture into a special mold. Icing is then used to decorate faces on them.
Mole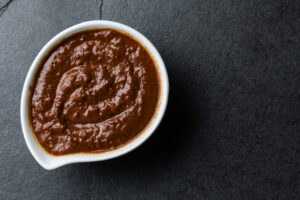 Pronounced like "mole-eh", it is a sauce used in many traditional Mexican dishes. There are many different kinds. One of the more popular types is made with chocolate—like our Mole Negro (black Mole).
Tamales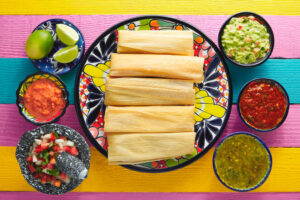 One very popular food during Día de los Muertos is tamales. They are made from masa, a dough made from corn flour, that is spread on a cornhusk. Meat, typically chicken or beef, is added and then the husk is closed and tied up for cooking.
Hot Chocolate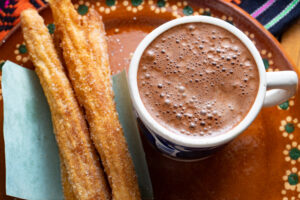 True Mexican hot chocolate is not like the powder packet stuff most of us are used to. It usually is made from whole milk, chocolate, cinnamon, and ground chile.
Feeling hungry yet? We have one more tradition to share with you and then you can grab a bite to eat.
3. La Catrina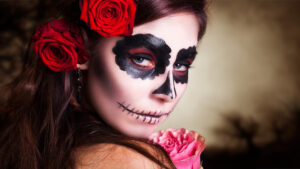 When you think of Day of the Dead, you probably think of people painting their faces like skeletons. However, it's much more than that!
Who is Catrina
In the early 1900s, there was a lot of political tension between the rich and poor of Mexico. José Guadalupe Posada, an illustrator, created Catrina in a satirical attempt to make fun of the upper class, especially native Mexicans who were becoming too European-like. He drew her to be a skeletal woman in a long dress with fancy hat and a crown of flowers on her head. The people loved Posada's creation and she was called the Lady of the Dead, a reference to the ancient deity and goddess of the ancient Aztec version of the Day of the Dead.
Over the last century she has become a very recognizable symbol of the holiday as people all over Mexico paint their faces in honor of her. Women will try to mirror the typical Catrina image while men will paint their faces and wear suits. There are even parades where everyone dresses up in Catrina attire.
If you're at Blue Iguana during the Day of the Dead, some of our staff might have their faces painted in her honor too!
Celebrate Día de los Muertos at Blue Iguana!
¡Ven! Come, let us show you the many flavors of Mexico. Bring your family and feast on fajitas while enjoying the mariachi music. Or bring your friends to try the margaritas and enjoy our chef's molcajete (his signature dish!). We can't wait to celebrate the Day of the Dead with you! To make a reservation, call Blue Iguana today.